Before 2014 season, Stephen Strasburg was always a "three-way pitcher": a 95-mph heat ball, a nasty curve-ball, and a 90-mph change-up, that's "Stephen Strasburg style".
However, this spring, Strasburg wanted to try something new --- to throw a Slider! He aimed to add more option to his arsenal.
As early as last year, he got advice on how to throw the pitch from Jordan Zimmermann and Dan Haren (Now a Dodger), but just until this year he started to make some differences.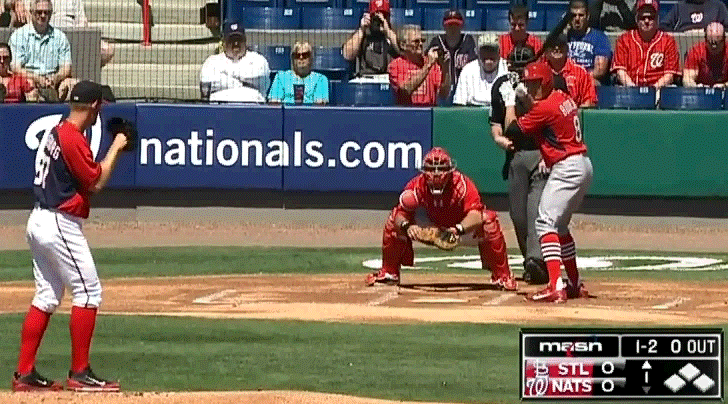 As above, you see Strasburg's new toy --- Slider. According to his statement, he'll pitch it occasionally, he doesn't want to make batters whiff, but make them hit poorly.
When asked whether throw this new pitch in the regular season or not, Strasburg said: "Yeah, I'm going to throw it, why not?"
via Brooksbaseball
In fact, this new weapon is added because of left handed batters. Before 2014 season, Strasburg most use his curve-ball and change-up to face LHH, and you can easily find that works pretty good from these two charts.
via Brooksbaseball
But if you look back at fastball, you'll find out that though the stats isn't bad, can even be called "dominating", while compared to the other two "off-speed pitch", actually there are statistically significant differences besides them.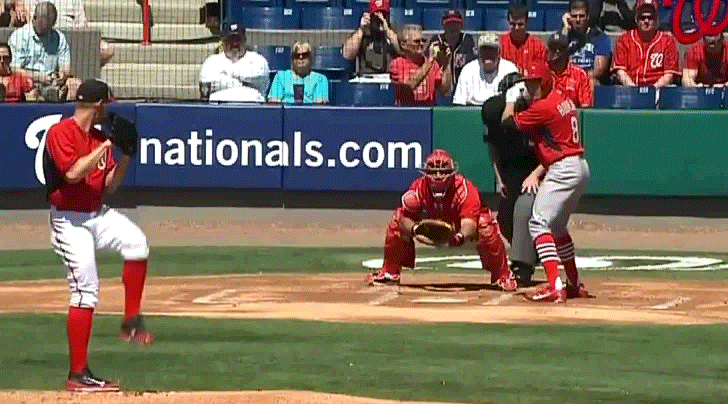 For this reason, Strasburg doesn't want to increase the break of his slider, he just wanna confuse the batters. He said that "I wanted it to look as much like a fastball as possible, so if I get a little bit of movement, that's all I'm really looking for. I'm not going to dump my other offspeed pitches for it. It's just going to be something to keep them from cheating to the fastball as much." Though he was satisfied about his new pitch after last two spring starts, he still need time to prove it can be work when season begins.
Unfortunately, Strasburg's new experiment totally failed after first two months of 2014 season passed...
First, we can see just this pitch was so ineffective. Through first 10 starts (61.1 innings TOT), Strasburg threw just 47 sliders. It's approximately every 1.45 innings you would see a slider, which matched to his "occasionally" speech.
Second, these 47 sliders were all in 11 at-bats, almost half of them were strike-outs, while he was also been hit 4 1Bs and a home run. and the BAA./OBP./SLG. were 0.455/0.455/0.727, which was too horrible to endure...
From Game Logs, he did'nt even throw 1 slider in last five games!!!
Last time he threw a bit more sliders was 4/15, but that game he pitched was very bad: 4 innings - 8 hits- 6 earned runs, and following a lose, of course.
Remember that Strasburg said he wants to use this pitch to face LHH? Look at the chart above, 47 sliders, just 1 when facing LHH, you must kidding me, right?
All in all, Strasburg abandoned his slider.
Nats' catcher Wilson Ramos said: "He feels uncomfortable with the slider, he said he doesn't want to throw it."
The true is that Strasburg can't display the new weapon's power, so it is not hard to understand why he made this choice.
via pic.pimg.tw
To some extent, now Strasburg had said good-bye to his slider, look at the stats above, I think he made a good decision. and maybe he needs more time to understand / practice the new pitch before let it join his repertoire.
_____
Thank you for reading, I'm Sparksfly Chang. I'm a blogger and I come from Taiwan. My favorite team is Washington Nationals, while I write many articles about the Nats in Chinese.
Welcome to my blog: http://sparksfly.pixnet.net/blog
This article in Chinese: http://sparksfly.pixnet.net/blog/post/179798991
(All Charts came from Brooksbaseball, except the last is made by myself)