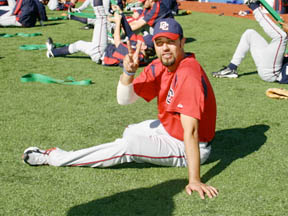 Peace out, E-Lo. Word to ya mom's cousin's sista.
During a moment of unintentional hilarity at today's D.C. City Council joint hearing (to paraphrase Col. Jessup from A Few Good Men, was there any other kind?), Carol Schwartz had rambled roughly half-way though her "questions" for . . . I don't know, some eggheaded-looking guy . . . when she halted and informed the audience---in one of those partly-hysterical, partly-somber tones that work so well in committee hearings---that:
It has just started. I've been told that the radio is reporting Esteban Loaiza is leaving us. He got a better offer somewhere else. Major League Baseball is letting this team come apart before our eyes. We have to get this deal done. We have to get an owner. This is awful. This team will be reduced to nothing soon.
Or something. I don't profess to say those were her actual words, but I'm glad I got back from work just in time to hear her speak. It gives me an angle for this post.
You see, Bud Selig is a lot of things. He's:
greedy

dissembling

stuttering

craven

callous

covetous

shallow

spasmic

swinish

cowardly

contemptible

pompous

presumptuous

often idiotic

self-centered

self-defeating

callow

pathetic

pusillanimous

devious

monopolistic

disingenuous

awkward

exploitative

untrustworthy

dastardly

repugnant

lazy

secretive

vile

foul

wicked

shameful

a bad dresser

dishonest

dishonorable

backstabbing

self-interested

overwrought

slow-witted; and,

the very antithesis to truth, justice, and the American way.
But he's not to blame here.
Yes, it is true: Loaiza is gone to the Oakland Athletics, as St. Barry reports. The terms: according to Rocket Bill, three years for about $21 million, with a club option for a fourth year. The Nats, of course, had offered in the neighborhood of two years for $8 million. (Missed it by that much!)
The angry-young-man part of me would love nothing more to continue a previous rant and just go ahead and sentence Bob Dupuy to death, Gary Glitter-style. But this really isn't the occasion for such exacting revenge. In a way, I'm glad that this team is, shall we say, budgetarily hamstrung---the condition no doubt rendered any notion of retaining Loaiza at those terms untenable.
And that, my friends, is fine by me.
Let's address Loaiza's fine points first; it's a neat little rhetorical trick, you know, because I want to leave you with the impression that we don't want E-Lo. But, in the interest of an honest take on Loaiza's departure, we really should realize what we're going to be missing. After all, if Athletics Nation is indicative of the mood in, well, Athletics Nation (and it is), then our pard'ners in the Bay Area are generally happy to have the guy. Why is that? Well, Loaiza:
is rather durable (last time he didn't make 25 starts or pitch 150 innings in a season was 1999);

had good peripheral stats in 2005 (strong K/BB and K/IP ratios; strong 3.32 FIP ERA; and,

was outstanding in 2003 (154 ERA+), creating the reasonable inference that the guy didn't entirely fluke his 21 wins and 2.90 ERA.
If we lived in a world where pitchers were compensated at bake sales or with bombers (or however the bumper sticker goes), rather than one in which pitchers great and small are paid in hard cash, then I'd be in support of Loaiza remaining a Nat. Heck, if only the cash were a bit soft
er
---two years at $6 million per, maybe---I would have given E-Lo my blessing (for what that's worth, of course).
But the market has gone higher than a mid-90s Dallas Cowboys team meeting, and I don't really think a rational case can be made that it was worth it for the Nats to test the waters of Loaiza's consistency.
I have two things to note here; I suppose that would make this entry a fine Advisory Opinion, but I wanted to get that Bovine Cartel crack in, and it didn't fit the format. Anyway, back to those two things:
MLB ownership or not, we're looking to the future here---and Loaiza could have been a poison pill to that end; and,

For all the advertising that Loaiza is this dependable, league-average-or-better innings-eater, I'm not convinced.
First and foremost, I'm willing to abide by some lesser-lights starting for the '06 Nats, because I'm looking forward to '07 and beyond. For the '07 and '08 seasons, I want to see the following things, among others:
John Patterson (arbitration-eligible after '06) locked up to a multi-year deal;

Livan Hernandez (due to make $8 million in '06 and $7 million in '07) signed to a long-term extension; and,

Name-You-Stud-Ace brought in to anchor the starting staff.
(The contract numbers above are from
here
.)
No matter what we may dream, the new owner (have faith, people!) will not drive up the payroll to "large-market" levels overnight---maybe for '08, I suppose, what with the new ballpark opening, but I don't really expect the new park to open on time. Whenever the team's grand unveiling really occurs, I think it must be judicious until then. The offense needs a lot of work, too, remember.
Essentially, what I'm saying is that the $7 million here and there for Esteban Loaiza would have gotten in the way. He's a decent choice to fill out the No. 3 or 4 rotation slot for a team that wants to spend money now, but he's a less-than-ideal choice for a team that wants to invest in guys who will form the core of the Nats' first true contender. (As thrilling as this season was---and, yes, the team contended for much of the year, longer than those removed from Nats Nation would recognize---I don't see the '05 Nats at all in this way.)
Well, who is this nebulous lock-down starter for whom I pine, you ask? A.J. Burnett? Pfft, you answer. Hey, it beats me---and I don't think the Burnett/Braunecker duo is really going to take the Nats seriously, anyway. But I think that guy will come along in the next couple years, and I don't want any salary millstones standing in the way of grabbing him. A 1-2-3 of that guy, Patterson, and &#161LIVAN! would be impressive, indeed.
Also, there's another consideration: I suspect that Loaiza's "solid veteran starter" label might be the product of his 2005 season's contours reshaping his track record retroactively.
How does one measure a "solid veteran starter"? I suppose there's two components: durability and effectiveness. Let's track those components in Loaiza's career using innings pitched and ERA+, respectively:
172.2 IP, 84 ERA+

52.2 IP, 89 ERA+

196.1 IP, 104 ERA+

171 IP, 88 ERA+

120.3 IP, 110 ERA+

199.3 IP, 111 ERA+

190 IP, 95 ERA+

151.1 IP, 78 ERA+

226.1 IP, 154 ERA+

183 IP, 84 ERA+

217 IP, 105 ERA+
What's your definition, using these measures, of a "solid veteran starter"? Maybe 200 IP, 100 ERA+. (Innings plus league average pitching equal value.) Granting Loaiza an out or two for the 2000 season, he's done that three times in a ten-year career. (We'll throw out 1996, since it was spent mostly in the minors.)
Eh, let's fudge those standards somewhat, in order to count that '97 season. Now we're up to four years.
Heck, let's be gracious and drop that ERA+ standard a bit---say, to 95. While we're at it, let's count his 190 IP season in 2001. Now we're up to five seasons of "solid veteran pitching"-quality seasons, if watering down our standards a bit.
Still, that's five seasons of yes and five seasons of no. A bit simplistic? Yes. But the on-and-off ratio is consistent with his 2004-05 seasons, as well as his 2002-03 seasons. And so we get to the crux of my problem with the guy: his consistent pitching in '05 created a perception that hasn't been true. Historically, he's been anything but.
There are other reasons to frown at Loaiza, like his home/road splits in '05. And even if those things can be discounted somewhat on a surface-level (for instance, his home run rates were the same at home and on the road), it's hard to discount that opponents slugged one hundred points higher during Loaiza's road starts. It was my theory that the Nats, for whatever reason (maybe design, maybe luck) suppressed their opponents' power in first-half home games to an uncanny extent---even after factoring RFK Stadium into the equation. It appears to me that Loaiza was one of the exploiters---or beneficiaries, depending on your perspective.
Well, here I go . . . I don't want to dump on the guy. Instead, I just want to wish him well.
So fret not, Schwartie. E-Lo's happy (last offeason he received one big league contract offer!), and the fanbase is still standing after his departure. Everything's okay. Given the course of this offseason, it's probably better that we'll largely stay out of it, and soon enough it'll be time to play ball again.

Update [2005-11-28 23:55:33 by Basil]: Other takes (so far): Nats Triple Play (nostalgic); Beltway Boys (opportunistic). See also Boz (stating Loaiza "ate innings [and] . . . was always sturdy").