Dateline, Cleveland. 1920. It was a leap year. Two years after "The Great War" had ended. The Red Sox traded "The Babe". The New York Times mocked Robert H. Goddard's plans for a rocket that could (Get this!) go beyond the atmosphere and reach the moon. Joan of Arc was canonized. The first Negro League National Baseball game was played. The 19th Ammendment to the U.S. Constitution was passed. The first "domestic" radios became available and made their way into consumer's homes and radio station KDKA in Pittsburgh began the first commercial radio broadcasts by announcing the results of Warren G. Harding's victory in the Presidential election. Duke Ellington and George Gershwin were the tops, folks were doing the Charleston and "Flapper" fashion was all the rage...
Meanwhile, in Cleveland, Indians shortstop Ray Chapman died after being hit in the head by a pitch from the Yankees' Carl Mays. Chapman's replacement, Joe Sewell, (who would be inducted into the Hall of Fame in 1977) made his major league debut, hitting .329/.413/.414 over the last twenty-two games of the season as the Indians took advantage of the breaking "Black Sox" scandal to earn their first American League pennant, and after they defeated the Brooklyn Robins, their first World Series Championship....
The Washington Senators, four years away from their first (and only) World Series win, finished 6th of 8 in the American League in 1920, with Clark "The Old Fox" Griffith guiding a squad led by first baseman Joe Judge (.333/.416/..462), a 23-year-old infielder named Bucky Harris (.300/.377/.381), and on the mound, a 32-year-old Walter "Big Train" Johnson, who anchored a young staff, and would eventually lead the Sens to their first WS win in 1924. 
Tonight in Cleveland the Indians and Nationals (nee, Senators), turn back the clocks, don the throwbacks and bring us all back to 1920 for just one night...(ed. note - "No guarantee these will be the uniforms, but here are the 1920 fashions for each team.")
1920 Washington Senators.                  1920 Cleveland Indians.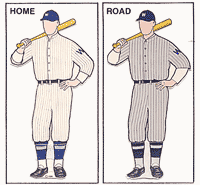 ;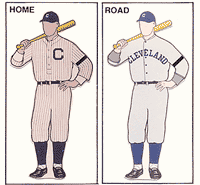 (Images from National Baseball Hall of Fame "Dressed To The Nines" Uniform Database.)