A note about the acronyms: The acronyms below are some of the more commonly used ones from the page, but this list is by no means comprehensive. We tend to make up acronyms at the drop of a hat (WTTMUAATDOAH). If you're not sure of an acronym, just ask. There are no foolish questions here at Federal Baseball. Just occasionally foolish Barves fans.
+1: This is an indication of approval/agreement. It is best done in addition to clicking "rec" on the post or story being approved/agreed with, but that is really courtesy rather than required. It's fun, though, because if three people "rec" the same post, it turns green. :-) Emphasis can be supplied through punctuation "+1!" or by upping the number. Acceptable variations include using a number to correlate with something in the story/thread. For example, when someone celebrates the fact that the Nationals are 10 games over .500 on a particular day, a fellow enthusiast may reply with "+10!" Which leads us to...
+10 points!: Traditionally awarded to someone who inadvertently makes a double post in a comment thread (usually with the "assistance" of a smartphone). No actual points are awarded, purely intended as good-natured mockery. Nearly all of us have been awarded "points" in this fashion. Thankfully, no running tally is maintained.
Baby Raccoons: A series of icons based on a family of raccoons that would sneak onto catdaddy3000's porch and steal dog food while he was watching games. As a result, the three baby raccoons became avid Nats fans, and quite knowledgeable. The full story is here.  They are also the stars of some of the best gifs that you'll find in a game thread anywhere.
Bambi:  A nickname for former Nats "#1 Starter" John Lannan, because he always looked vaguely sad when he pitched.  Lannan was a marginal LHP, enough to pass for a #1 with the Nationals during the Dark Times. He was not good, but he battled with his limited arsenal, trying to induce batters to chase a lot of slop. It didn't work very well (1.436 career WHIP) and was often tough to watch. No wonder he looked so sad.
Barves: An NL East rival team, also the mystic keepers of the inner secrets of baseball. A Barve can tell you why Bryce Harper admiring a home run and running around the bases is a heinous violation of baseball etiquette, but Justin Upton admiring a home run and trotting around the bases much slower than Harper is perfectly acceptable, indeed, is a laudable display of appreciation of baseball prowess. After being crushed by the Nationals in the NL East last year the Barves decided to blow up their team. It sounds violent, but be nice to them; they are paying Dan Uggla $13.5 million to play for a minor role with the Nationals.
Bixler'd: To make what should be a routine play into a highlight real worthy spectacular play. In honor of former National Brian Bixler, a scrappy(tm), gritty(tm) marginal major leaguer who was a really light hitting (career OPS+ of 41!) who got by with his glove and his versatility.  And grit(tm). He came up as a shortstop and was actually a pretty decent infielder, but when pressed into service as an outfielder things got fairly ... adventurous.
The Blue Guy: This is from a blue icon of the cookie monster stuffing baseballs into his mouth that someone (I think MissB, but don't quote me on that) developed to show the tragedy and pathos appropriate to an occasion when a National hits into a double play. We do not like The Blue Guy. He is evil. And greedy.
BOWDEN!!:  A reference to former Nats GM Jim Bowden, whose reign of error gets him (along with Stan Kasten) a lot of blame around FBB for setting baseball in DC back for years.  Also known as Leatherpants or Segway, Bowden's tenure came to an end after the "Smiley" Gonzalez scandal.  It took the Nats years for their international operations to recover, but now their Dominican Academy is turning out some real prospects (Reynaldo Lopez, Wilmer Difo, Pedro Severino, etc.). [Rizzo points to head]
Buffarhino: Wilson Ramos. You can't stop a charging buffarhino! This was a combination of a couple of other nicknames for Ramos – "Tatanka" (a Native American word for bison/buffalo) and Rhino. First used in a Gamethread when Ramos returned from injury in July.
C&D: Charlie Slowes and Dave Jaegler, the esteemed radio broadcasters of the Nats. Also sometimes called "The Voice" and "The Brain" respectively. Charlie is the one who uttered the immortal lines "What was [he] thinking? Where was he going?"
Curious, Yellow DP Bird: Sometimes double plays don't fall into a neat little 6-4-3 box. It's the second out from a rundown after a runner strays too far, the strike 'em out, throw 'em out, or the other curious ways that teams find to end their rallies. So … the curious, yellow DP bird. There's a reference in there someplace ...
Cyborg: Bryce Harper, who is also occasionally known as "Bam-Bam" (for his initials – Bryce Aron Max Harper) as well as his way with a club). But before he ever became a Nat Bryce was described as "a tape-measure-testing, laser-throwing, eyeblack-oozing baseball cyborg" in a 2010 article in the New York Times
Dancing Animals/Mascots:  a .gif that pops up after joyous wins. Frequently followed by comments assessing the relative quality of the mascots' moves.
DeadEyez: Jordan Zimmermann, who goes about his business on the mound with an intimidating lack of emotion.
FBB: Federal Baseball, a support group for Washington Nationals fans.
Fez:  Originally posted for walkoff victories, and occasionally used after, especially enjoyable victories, it's time to put on your fez and party!  Alas, Doghouse has not gotten his yet despite offering in excess of $10 million dollars for one.  Don't be like FezMonkey, though - pants, please!
FOTF: "Face of the Franchise"  – traditionally Ryan Zimmerman, although in the past couple of years there has been a growing number of Cyborg advocates. Still too soon, unless/until the Cyborg realizes more of his vast potential. And keep an eye on that Rendon kid.
GameThread: Sadly, we can't make it to ALL the games. Not to worry, though - we hang out in cyberspace on game threads, pulling like mad for the Nationals. They are posted every day, and feature a lot of shared experience, fun and commentary. Gamethreads are where many of the terms on this list were first used.
Goggles: The recently departed Tyler Clippard, famous for his eyeware. Anyone watching him play baseball knows this one, as his goggles are pretty spiffy.
IMH: "Is My Hero," typically used when one of the Nationals does something great. "IDIMH" = "Ian Desmond Is My Hero." Etc.
IMMM: "I Miss Michael Morse." We all loved The Beast while he was here. Although he hasn't been consistently healthy or beastly since he left DC, there will always be some fans who believe that the cure for all that ails the Nats is a little Beast Mode. Don't feel bad for Morse, though - he did get a WS ring with the Giants (although he didn't play in the field at all in the playoffs). He is back in the NL East this year with the Marlins.
ITBSOHL:  "In The Best Shape Of His Life." A short hand reference to the inevitable Spring Training story about how [Player X] has dedicated his offseason to being ... ITBSOHL. Oddly, it never seems to correlate to actually being better on the field.
Jinx FAQ: A reference to a perhaps mythical, but seemingly very heavy (and with sharp corners) book that MissB will hurl at anyone whose comments are perceived to be too close to the "Jinx" line. Note that this may be through excessive optimism (which invites retributive DOOM for cockiness) or excessive pessimism (which invokes DOOM). Pretty much anything invokes DOOM to the superstitious Nats fan ...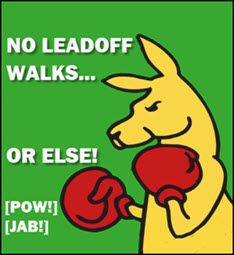 Kangaroos: Leadoff walks. If a Nats pitcher issues a leadoff walk, the kangaroo shows up in the game thread to punch him upside the head (BIFF! POW!). Fortunately, those never come back to haunt a pitcher, right? Right? We'd all be happier if the Nationals weren't so gentlemanly about taking advantage of opposing pitchers prone to the kangaroo. This originated in a game thread a long time ago in honor of a fan from far, far away (Australia).
The Kids Call Him Zim!:  This one dates back to 2008, and refers, of course, to the original FOTF Ryan Zimmerman.
LSD:  It's not a hallucinogenic, it's "Left Side Danny" - the nickname for Danny Espinosa when he bats from the left side of the plate. It's not a compliment, as LSD has put up horrifically awful OPS numbers in 2014 (.532) and 2013 (.448) while whiffing an astonishing 132 times in 356 at bats (37.1%). Which has led to the (hopefully more successful) RSOD.
McChatty:  When Nats' pitching coach Steve McCatty strolls out to the mound during a game to proffer helpful advice to a Nats' hurler, this conversation is a "McChatty."  According to some incredibly loud fans at Nats Park, McChatties are brought to you by Federal Baseball Dot Com, a support group for Washington Nationals fans.
Mongoose: Ian Desmond. The Mongoose RAWKS! And if clutch existed, it would look like him, too. Origin explained by cd3K in a Fanpost back in the day.
Nats Town North: Citizens Bank Park, the Nationals' satellite home field in south-eastern Pennsylvania
NGU! NS!:  Never Give Up! Never Surrender! Shamelessly stolen from an incredibly funny movie, this phrase comes in handy when the Nats are facing seemingly insurmountable odds. Those situations came up a lot more often in the early years. But even when the Nats cannot come back in any one game, by Grabthar's Hammer and the Sons of the Worvan, the Nats SHALL BE AVENGED!
Nyjer:  to be picked off, as former National Nyjer Morgan was wont to do.
Offenza: A mythical product that we wish the Nationals could get for their hitters. Offenza is a well-known cure for anything that ails a baseball team's offense.
P2C: Pitch to Contact. A pitching philosophy of not going for strikeouts, but instead pitching to get weak contact from the hitters and keep your pitch count down. Oh, and because strikeouts are fascist.
P2K: Pitch to Strikeout. Because the BABIP Gods can't hurt you when STRAS STRIKEZ U OWT!
Peaches: Tyler Clippard's other nickname. For his first couple of seasons with the Nationals, Tyler's entrance music was the song Peaches by the Presidents of the United States. Despite the fact that he switched his intro music last year, it's still not uncommon for game threads to riff on the lyrics of this song when Peaches comes into the game.
PBP: Play-By-Play, done on a game thread, for the benefit of those who can't watch or listen through normal means. It's nice to trade off PBP duties, as it requires a lot of fast typing.
PFB: "Pretty Frickin' Bueno": Once upon a time, Nationals' Pitching Coach Steve McCatty used this phrase to describe "Bullpen B" closer Henry Rodriguez's stuff. When HRod was on, he was virtually unhittable. When he was off, mascots better watch their step. Henry is long gone, but the phrase lives on.
Points to Head: Signature move from the head of the Nats' brain trust, Mike Rizzo - as lifted from a WaPo article referenced in an article from February 2012.  Although upon further review it dates back to the beginning of Rizzo's tenure, having been spotted on FBB in 2009.
The Red Guy: The Blue Guy's cousin, a red icon of the cookie monster stuffing baseballs into his mouth developed to show the joy and happiness appropriate to the occasion when the Nationals turn a double play. We like The Red Guy. He is stylish, and always a pleasant visitor. Sometimes also referred to as "monster" (in today's GameThread a poster said "here monster monster monster" in a situation where a double play would be very helpful).
RISP Pigs: "Runners In Scoring Position" Pigs. From an icon developed by the sublime MissB to express our frustration when the Nats aren't able to plate runners in scoring position. We don't like these snoinking pigs, because they prevent the Nationals from hitting with RISP.
RSOD:  "Right Side Only Danny," a reference to Danny Espinosa's giving up switch hitting and only hitting as a right handed batter.  Hopefully this will successfully put an end to the trials and tribulations of LSD.
Slaten: To enter a game as a relief pitcher and stink up the joint, but to only allow inherited runners to score - thus preserving YOUR ERA while completely undermining your teammate and team. In honor of Doug Slaten, a marginal LHRP who in 2011 was terrible from Day One, yet managed for the first several weeks to sport an ERA of 0.00 while allowing 12 baserunners in just 6.1 innings, allowing of 9 of 20 inherited runners to score. It was a great way of finding out which baseball analysts were truly incompetent; if the analyst wrapped up his discussion of the Nats' bullpen by citing the excellence of Slaten and his 0.00 ERA, you knew the analyst was simply reading from a script and hadn't done any homework.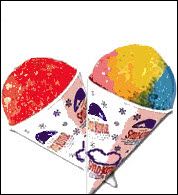 Sno Cones:  Another victory aperatif; Fearless Leader Reddington has been known to jump up and down for sno cones!
SPAD: Refers to "Speed, Pitching, Athleticism, Defense," a phrase that Nationals' GM Mike Rizzo used before the 2011 season to describe the Nationals' philosophy (and also to explain some of the roster turnover that took place that year).
Spinner: Nickname for infielder Danny Espinosa, also sometimes referred to as "Danny Glover" in honor of his defensive prowess. After putting up a league leading 189 K's in 2012 and a split of .158/.193/.272 in 2013 (and .216/.280/.286 in AAA), Danny has acquired other, less complimentary nicknames.  Hopefully RSOD will limit some of the need for the less complimentary nicknames.
[Spit]: Pretty much what it looks like; a way of clearing ones mouth of a distasteful word, such as the name of Rizzo's predecessor as GM, or the name of the newly installed left fielder of the Boston Red Sox.
Strikeout Icons: Each pitcher gets a special icon to maintain their K count in a game. Strasburg's is a Superman icon; his draftmate Drew Storen's is a lightning bolt (it's not a storm warning, it's a Storen Warning!). Jordan Zimmermann's icon is a winky, pointy dog wearing a Wisconsin sweater. Trust us, MissB is magic at coming up with possible icons, and we vote on them in the threads.  The direction is determined by the type of K, with a forward icon for a swinging K, and a backwards icon for a looking K.
TKCHZ!: Although it kind of sounds out like a sneeze, this refers (again) to Ryan Zimmerman, King of the Walk-Off HR.  I'm not sure of the origin of this one, although I suspect it has something to do with Dune.
TOOTBLAN:  Thrown Out On The Basepaths Like A Dummy Nincompoop. Another version of Nyjer'd.
Vulture: A relief pitcher who not only manages to blow a save and cost another pitcher the "win," but through no merit of his own ends up being credited with the "win." Thus driving the final nails in the coffin of what is a fairly useless statistic. Although a general quirk, this really became a thing in Nats Town in 2010, when Tyler Clippard led the staff with 11 "wins" - a unique feat for a relief pitcher. He did this by highway robbery; his first four blown leads, and five of his blown leads overall, ended with Clippard pocketing the "win" statistic.
WereWerth: Jayson Werth's nickname. Because, let's face it, the man has a shaggy lycanthropic visage. But for the last three years he has been totally "Werth IT!" as he has been the most consistent offensive player on the team.
What was he thinking?!? Where was he going?!?:  Saved for truly epic TOOTBLANs/utterly brain dead baseball moments. First uttered by Charlie Slowes in the broadcast of a Nationals game against the Cleveland Indians on June 23, 2007. The Nationals were trying to rally after The Chief had given up a three run HR to Victor Martinez in the top of the 9th to turn a 3-1 lead into a 4-3 deficit. The Nats loaded the bases with one out with Felipe Lopez (Nats nickname: FLop; it's not a term of endearment) at the plate. He hit a comebacker and all the Indians could get was a force out at the plate. That is, until Nook Logan, for reasons never really explained, chose to round third instead of merely stopping to keep the tying run 90' from home. For how we all felt, I give you ... Charlie Slowes.
WHMTP: "Would Have Made That Play," used to indicate that the play just botched by some poor player on the field would have been made by a better defender. "RZWHMTP" would stand for "Ryan Zimmerman would have made that play." Often employed in reverse after a defender makes a sparkling play: "ADWNHMTP" for "Adam Dunn would not have made that play."
• Did we miss any? Add them below...