Unlike last season, when Tyler Clippard had to replace Jordan Zimmermann as the club's lone All Star, the Washington Nationals figure to be well represented in the 2015 MLB All Star Game....
Bryce Harper

doesn't only lead the majors in Home Runs and Slugging Percentage.  He's also leading all MLB players with 2.3 million votes for the All Star Game.  Harper holds a 1.3 million vote lead over the fourth place outfielder (

Norichika Aoki

), so it would take a miracle to keep him off the team.

Max Scherzer

leads the National League with a 1.85 ERA and 90 strikeouts.  For those who prefer to focus on advanced metrics, he also leads all qualified starters with a 2.17 FIP.  The question doesn't appear to be whether Scherzer will be selected to make the All Star team... It's whether or not he'll be starting the All Star Game.

Drew Storen

leads all NL relievers with 17 saves.  His 0.81 ERA ranks third among NL relievers with at least twenty innings and his 1.27 FIP leads all NL relievers.  He also leads all NL relief pitchers with 1.0 WAR.  Barring a disastrous June, Storen looks like he's on track to make his first All Star team.
Those are three sure things that don't really need me trumpeting about their exploits so far this season.  The Nats do have another handful of players who warrant some serious consideration as well.
Jordan Zimmermann had a couple of shaky starts early in the year, but he's bounced back and now finds himself eleventh in ERA (2.88), fifteenth in FIP (3.11), and tied for seventh among NL starters with 1.6 WAR.

Denard Span

has been outstanding since his return from the disabled list.  He's batting .314/.356/.504 with 5 HR and 3 SB.  Known more for his defense and speed, Span finds himself third among CF with a 135 wRC+.

Yunel Escobar

has been quite a find for the Nats so far in 2015, particularly since

Anthony Rendon

has yet to play a game in the majors.  The veteran shortstop has made a strong transition to third base and finds himself batting .314/.376/.389 so far this season with 2 HR and 1 SB.
Let's have a quick look at the leading vote-getters in the National League so far before I talk about the sleeper option that the Nats have.....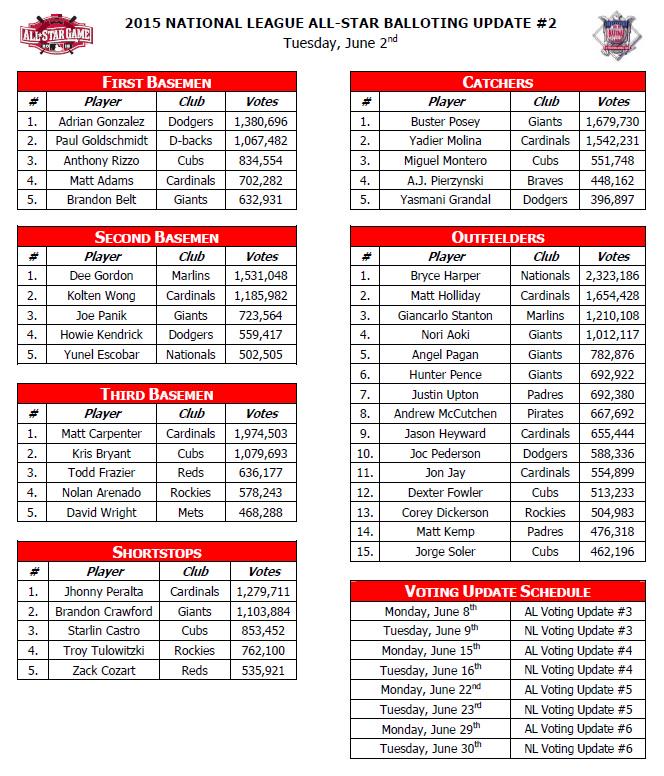 Again, we'll note that Harper leads all outfielders by a significant margin. He's in.  Yunel Escobar is fifth among second basemen (he hasn't played a game at 2b this season), but he's more than a million votes behind leader Dee Gordon.  No other National cracks the top five at their position.  Despite an up and down start to the year, I would have liked to think that three time defending Silver Slugger Ian Desmond could have cracked the top five at Shortstop, but oh well.... He's not the guy that we're going to talk about today.
We're going to talk about the Nationals other homegrown middle infielder!
Danny Espinosa is not on the All Star ballot.  Since the assumption heading into the season was that Escobar was going to be the starter at second base, Escobar is the Nats second base nominee.  Anthony Rendon is their nominee at third base.  While you can write Espinosa in when you fill out your ballot, the fact of the matter is that he probably doesn't deserve to be the starter at second base.  The voters seem to be getting it right.  Dee Gordon is the current leader at second base.  He leads all NL second basemen with a .367 batting average, a .395 OBP, and 20 SB.  Per Fangraphs Defensive Runs Above Average, he leads all second baseman with +7.5.  He also leads all second baseman by a significant margin with 2.7 WAR.
Where does Espinosa fit in?
Let's take a look at one of the managerial selections that we saw in 2014.  Last season, when Anthony Rendon led all NL third basemen at the break with 3.8 WAR, he was left off the roster in favor of Josh Harrison (1.9 WAR).  I don't want to overlook the season that Harrison had in 2014.  He had a terrific first half (.297/.333/.450 with 5 HR and 9 SB) and actually went on to have an even better second half (.332/.359/.528 with 8 HR and 9 SB).  Still, NL manager Mike Matheny's reasoning to carry Harrison on the All Star roster last season was that he wanted a player with the versatility to play multiple positions and provide a spark off the bench.
This is exactly what Espinosa could do for the 2015 NL All Star team.  He happens to be having as good a season as any other player in the National League that could fit that utility role.  Espinosa's .243/.346/.428 line may not exactly leap off the page, but it's good for a 111 wRC+ (11% better than league average).  He runs well.  He has power.  He can hit from both sides of the plate.  Most importantly, he can play multiple positions defensively... and play them well!
With Rendon on the disabled list, Espinosa has mainly stuck at second base this season.  He's played nine games at third base and just one (as a replacement) at shortstop in 2015.  Still, the addition of third base to his repertoire gave him more versatility.  He's accumulated 400+ innings at shortstop (his natural position) over the past few years, but he rarely plays there because Ian Desmond has been so durable.  When Rendon returns, there's a chance that Espinosa may even add playing a corner outfield spot to his resume.  Jayson Werth isn't expected back until August and neither Tyler Moore nor Michael Taylor are really laying a strong claim to the left field job in Werth's absence.
Has Espinosa been quite the revelation that Harrison was last season?
Most would say that he hasn't.  Harrison put up big numbers in the more traditional categories that more casual baseball fans tend to love.  Harrison had a .297 batting average at the break last year, while Espinosa is batting just .243 in 2015.  Harrison displayed average power, but he also stole nine bases, bringing a baserunning element to the table.  Espinosa has been a stolen base threat in the past.  Last season, Espinosa was quite proficient, stealing 8 bases in 9 attempts.  Alas, he's yet to even attempt a steal in 2015 as the entire Nationals team has decided to pull the plug on the running game.
Then again, Espinosa has a few areas where he's been better than Harrison was last season.  He has a better OBP (.346) than Harrison did at the break last season (.333).  He's hit more homers already (6) than Harrison did in the entire first half last season (5).  While Espinosa hasn't had a ton of extra base hits, his ISO is 26 points higher than Josh Harrison's was in the first half last year.  He's also provided more defensive value (2.8 RAA) than Harrison did in the first half of 2014 (1.5 RAA).  Espinosa's 1.1 fWAR so far this season (0.2 better than Yunel Escobar) falls short of Harrison's first half (1.9), but WAR is a cumulative stat.  There's still another month to go before the All Star Break, which could well provide Espinosa with another 100 plate appearances to make up some of that ground.
Sizing up the competition
Unlike Jordan Zimmermann and Denard Span, Espinosa won't be battling a crowded field for the utility spot.  Zimmermann is having an outstanding season, but there are a dozen other deserving starting pitchers that will be battling with him for the final few spots in the bullpen.  Denard Span has been terrific, but there are 20 other outfielders who have also been great that will be battling for a spot on the bench in the outfield.  Yunel Escobar has been a pleasant surprise, but he's not one of the three best second basemen or third basemen in the National League.... In fact, he hasn't even been the best player listed as a second baseman before this season on the Nationals. Danny Espinosa has.
There are only a handful of other players in the National League that Espinosa would be competing with if Bruce Bochy decides to carry a utility man like Matheny did last season.  The Pirates Jung-Ho Kang and Dodgers Justin Turner figure to be his primary competition.  While both are also having strong seasons with both the bat and (surprisingly, in both cases) the glove, Espinosa is right there with them in terms of all-around production.  Espinosa is one brief hot streak away from being the best utility man in the National League.
Prior to the 2015 season, if you'd asked me to name all of the Nationals who had a shot at making the All Star team, Danny Espinosa probably would have been about my twentieth guess.  On June 4, I wouldn't be that shocked if he made it.  Enjoy The Danny Espinosa Renaissance.
h/t to @Nationals101 for coining that last phrase
Want a chance to cheer on your team's All-Stars this year? Sign up for the Gillette Shave Club free membership (see rules here for full details on eligibility and alternative entry) for a chance to win a VIP experience at MLB All-Star Weekend in Cincinnati July 12-14 – brought to you by the Gillette Shave Club, Gillette's razor subscription service that delivers Gillette's best blades directly to your door. By signing up for the Gillette free membership program, you will be eligible for chances to win major league sports and entertainment tickets as well as free products and you'll have access to exclusive content, grooming tips, and more.