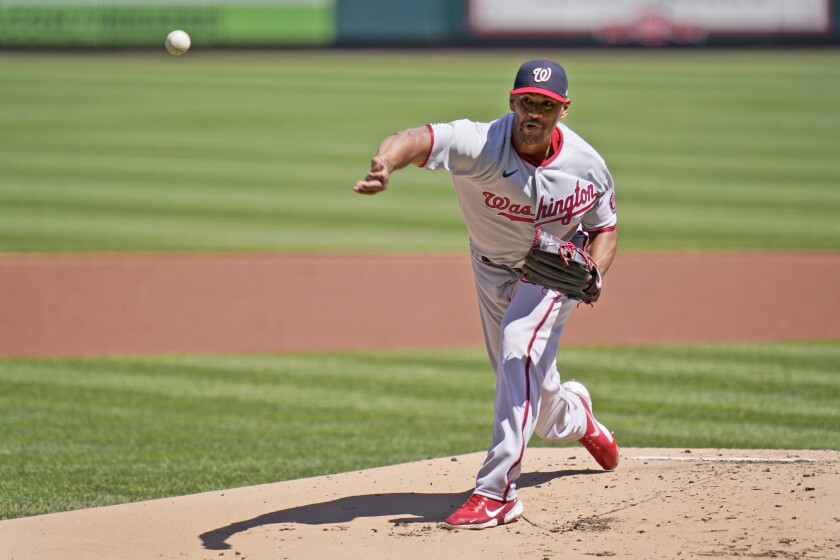 Photo: https://tinyurl.com/4wep8x4a
Game 3 of 3 @ Cardinals
Box Score:
Washington (3-6) 0 0 2 0 2 1 0 1 0 -- 6
St. Louis (6-6) 0 0 0 0 0 0 0 0 0 -- 0
Game 1: Washington 5, St. Louis 2
Game 2: St. Louis 14, Washington 3
Game 3: Washington 6, St. Louis 0

Achievements:
Shutout win (1st of the Year)
6+ Runs (3rd)
Series Win (1st)

The Bad
Victor Robles
It was hard to find much negative in this game. For the most part, the Nationals exhibited an all-around, team effort in a solid victory. Victor Robles, however, was not a part of said effort. As a result of his struggles for the first 8 games of the season, he was moved from the leadoff spot to batting 9th. Robles' struggles were the same, as he put up a 0-for-3 performance with a walk. His batting average for the year is down to .194, with zero home runs. If you're into advanced statistics, his wOBA sits at .289 while his wRC+ is 79--both significantly below average. The former top prospect is in his third full MLB season and continues to look all-around unintimidating. Besides his struggles with the bat, he also does not have a particularly good arm. While he does make the occasional acrobatic catch, his fielding is plagued by frequent mental blunders such as this one on Sunday that gave the Dodgers an early lead:
The question the Nationals must ask themselves is, how long should they hold out hope that their center fielder can turn it around? He exhibited some promise in 2019, recording some clutch hits and phenomenal plays despite an overall underwhelming performance. However, you can't simply leave a near-automatic out in your lineup indefinitely--particularly with Andrew Stevenson, who has exhibited some qualities of a good leadoff hitter, sitting on the bench.

The Good
Joe Ross
Who is this guy? We are witnessing a form of Joe Ross we have not seen since early 2016--before his career was derailed by multiple injuries. Two starts may be a small sample size, but the former Padres' top prospect sent to the Nats in the Trea Turner/Wil Myers/Steven Souza Jr. trade is showing incredibly strong stuff in the young season. I'm looking forward to seeing him pitch again and hopefully get a full season of work in.

Ryan Zimmerman
Mr. National hit his first homer of 2021, continuing his hot start to the year. The former face of the franchise currently has a batting average of .346, a wOBA of .380, and a wRC+ of 137. While some regression to the mean is expected, it's looking like he will be a useful weapon for the team all year, both as a platoon for Josh Bell and off the bench.

Josh Harrison
Man, the guy continues to rake. The former Pirate recorded two hits and two walks, raising his batting average to .545 and his OPS to 1.252. Harrison's all-around value to the team cannot be understated. He's a solid, professional hitter similar to Howie Kendrick, he plays his heart out, and from what I've seen he's a good teammate as well. My dismay with the Nationals' front office in recent years has been well documented, but bringing this guy in was a brilliant move.

The Question Marks
Tanner Rainey
In an otherwise one-sided game, there was one inning in which the Cardinals almost clawed back into the game. In the bottom of the 7th, they put two on with two outs in a 5-0 game. Tanner Rainey was sent in to put out the fire, and walked the next batter to load the bases before getting Tommy Edman to pop out. He got out of the inning but again appeared shaky. Although he has struggled, each of his outings have been marginally better than the last. Hopefully he will be back on his horse soon as the nasty setup man we remember from last year.

Player of the Game: Joe Ross (W, 6 IP, 0 R, 5 K, 4 H, 1 BB)
In large part I already went over Ross' great performance. It was excellent. If he can keep this up, the Nationals might have the best rotation in baseball besides the Dodgers.

What's Next
The Nats come home to face the D-backs for a 4 game weekend series starting Thursday at 7:05. Patrick Corbin will take the mound, hoping to overcome his abominable first start of the season. 6 years and $140 million say he needs to step up his game.

Other Thoughts
Remember early last season, when they alternated wins and losses for what seemed like forever? In reality it was a 10 game stretch, but the Nats' most recent stretch is becoming reminiscent of said stretch. Granted, it's only been 4 games of alternating, but they've looked very impressive in the wins while seeming hapless in the losses--exactly like last year's Oscillation Period (that's what I'm going to call it--it was either that or Sine Curve but for some reason nobody likes my math references). Last year, I made a bold prediction: whichever way they would end the Oscillation Period would dictate how the rest of the season would play out. If they were to end the Oscillation Period with consecutive wins, they would finish at or above .500. If they were to end it with consecutive losses, they would scuffle for the rest of the year. I'm not going to gloat over the fact that I was right, but I was 100% right. An 8-2 loss to the Phillies marked the team's 2nd consecutive loss, ending the Oscillation Period and sending them into a downward spiral that would last for almost the rest of the season. Again, this is only a 4 game Oscillation Period AND it's a 162 game season rather than a 60 game one. Still, I thought I'd point it out--especially since I was right.
About This Series: My name is Cole Bromfield. Anyone close to me will tell you how opinionated I am when it comes to the world of sports. I've even been called an "armchair manager", "armchair GM", etc by some. So I've decided to embrace that label and share my thoughts on my favorite sports teams. After every Nationals game, I will discuss one negative from the game, one positive, one question mark, any other thoughts I have on the game, and what's next. These entries also available on armchairanalysisnats.weebly.com